After finding out that the voice of Suzuka Asahina would be in town (or at least an hour away), I made the trek to California to go see Leah Clark. California, PA, that is, on the campus of Cal U.
This was the first anime convention I've been to that's been held at a basketball arena, and even on the court. I was a man on a mission: this was all about meeting Leah, not anything else. So I skipped the game show that Greg Wicker was hosting and instead bought some hot chocolate. There were actually more people there than I expected, but my expectations were loooooow. California, PA is a college town in the middle of the poorest part of western PA. It is a long way from Pittsburgh and any of its suburbs.
So after the handful of people who were at the game show cleared out, I joined those who came to see Leah. The crowd was large, though nothing about this con was "large" unless you count the walk from the parking garage to the arena.
Leah gave a very fascinating and informative panel on script writing for anime. It was incredibly educational, and it gave some insights as to what goes on when a series is dubbed into English. (Most people don't care cause they just pirate their stuff with dubious subtitles.)
After the panel, I asked Leah to sign my Suzuka DVD. This poor DVD has some stains on it from when I waited in line for Todd Haberkorn's autograph 2 years ago @ Ohayocon. (I was bored, so I decided to entertain myself by washing my hands with some of those automatic moistuizers - not realizing that it would make my DVD cover wet.) So Leah signed the DVD that Haberkorn & Brina (Honoka) had previously signed. And let's be honest: there aren't any other characters in Suzuka that matter.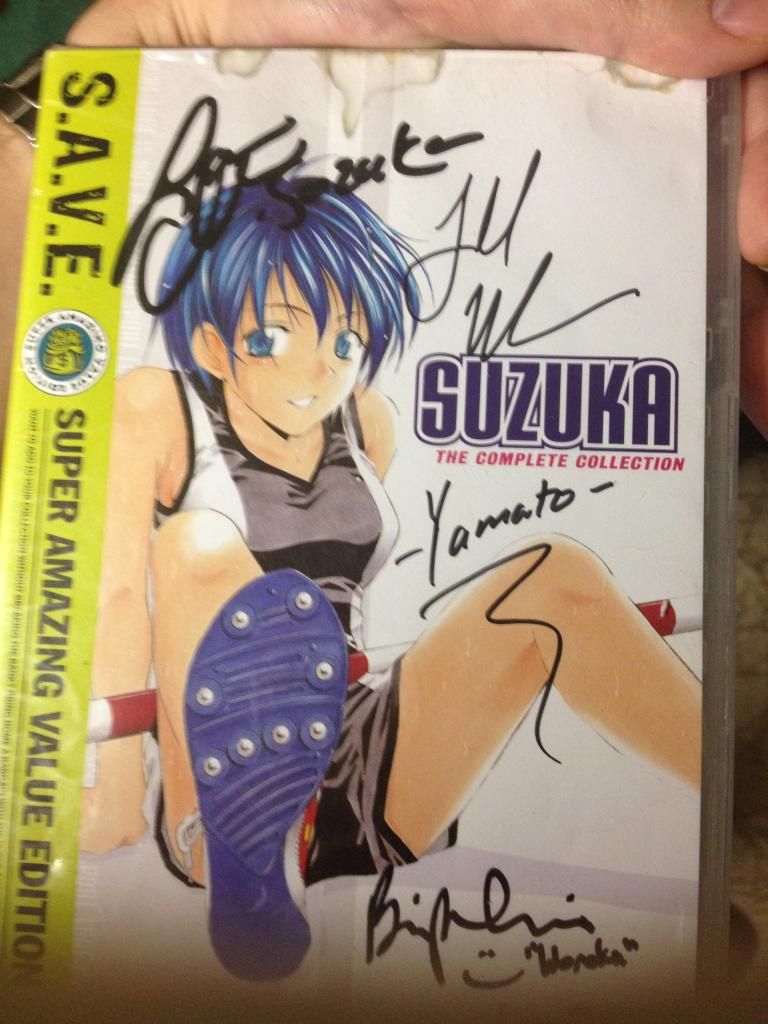 (Note to self: don't wash hands.)
Then I asked her for a picture. She said the word "selfie," one of my least favorite words in the world, and it made me cringe, but here's our selfie: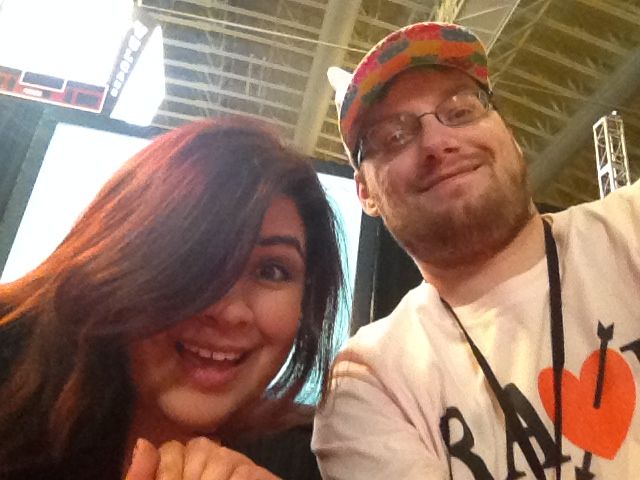 (You may see that I am wearing Vincent Brooks' shirt from the video game Catherine.)
But no con is complete without a trip to the dealers' room. Once I entered it, I instantly remembered why I love cons so much. I was able to reel in my spending and only waste a little short of $70. I bought a beautiful-looking T-shirt featuring Madoka & Homura from the 1st 2 Madoka movies. As I was going to pay for it, the man at the store convinced me into also buying a Kyubey backpack. "Last one!" the salesman told me. So I bought it, and now own 4 Kyubey plush items.
So that's that. Fun con for the few hours I went to it. Mission accomplished in getting Leah Clark's autograph. Most importantly, it is a big step forward physically and mentally for someone who's had a hard time doing anything this year.